Post by Demosthenes on Jun 19, 2014 0:44:11 GMT
We have a simple thread tagging/labeling system. It's simply a way you can slightly control who posts in your threads, or how they RP there. These tags can be applied on threads in the roleplay areas. When posting a new thread, on the right side of the title, you should see a little

. Clicking this will drop down some options. Go to labels and select the appropriate one. You can add multiple labels and remove them from the same place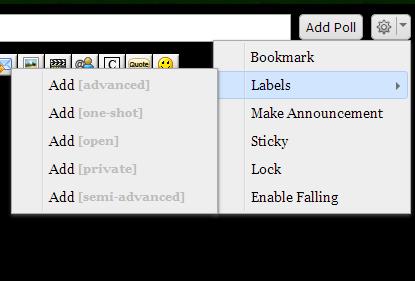 (small notice; your drop down will look a bit different since I have all the admin options available. labels should still be there though!)
[semi-advanced] -- Means the thread is semi-advanced. You can only roleplay here if your posts are semi-advanced in style/length.
[advanced] -- Means a thread is advanced. You can only roleplay here if your posts are advanced in style/length.


Please note though, we don't have an official standard on what is considered semi-advanced or advanced, we assume you can tell that difference between those kinds of posts and the minimum 30 word posts. However, feel free to set a word minimum for your own threads in the title/post itself. Such as;

[advanced tag] a walk in the park. (400 word minimum please) You should, in all kinds of posts, use your best grammar and punctuation.

[open] -- This thread is open to everyone at all style/levels. You still do have to meet the 30 word site minimum.

[private] -- This thread is private between two+ users. Only the users this thread is for can post there. You can also add their display/username so we all know specifically who the thread is for, such as;

[private tag] a walk in the park. (demosthenes) These kinds of threads are perfect for mentor and apprentice training threads--or whatever else.
[one-shot] -- These are threads with one post--the thread itself. Users would rather you not reply to them. These can be used if someone simply wants to kill off a character without all the posting drama following. They post about them dying, drowning, whatever--and thats the end of it.
You're definitely not limited to these tags however. This is simply some common ones. You can hand write your own tags by just including what you'd like in parentheses in your title. You also do not have to tag your threads at all. Untagged threads are assumed to be open to everyone as long as they meet the 30 word minimum.
You do, however, have to respect user tags.
If it's tagged private and it's between users who are not you, don't post there. If its tagged advanced, you have to post advanced posts. We will enforce whats tagged.
-------
You are also able to tag users. This can be done by posting the @ symbol followed by their
username
. Not their display name. My username, for example, is admin. So @.admin, without the period, would tag me. Usernames can be found on a user's profile or by hovering over their display name on their miniprofile on a post. The user will get a notification of your tagging them.
Please don't spam users with tags though. Users are aware of the threads they're in and are capable of checking for new replies to those threads. An example of an appropriate use of a username tag would be in a private thread's first post (so they knows its made/its for them) or if you want them to see something (like if you needed their character in a thread, wanted them to see some art or something, etc.)
-------
Also, a small notice regarding posting (and tags). You're always welcome to create threads. I know on some forums, specifically in the 'camp clearing' type boards, there is a camp thread and no others. While we should always have a general camp clearing thread up that's open to everyone, you're free to create your own. That way you can have an [advanced] camp clearing thread, private threads in the clearing, etc. This goes for all the roleplay boards except for gathering threads--where we expect everyone attending the gathering to post on the official gathering thread (since realistically all cats attending should all be in the same place at that time)
As long as you're not posting multiples of the same threads or anything else that would count as spamming, go ahead.
also, this is probably not necessary to say, but--you can title your threads whatever. doesn't have to be 'bobfoot's den.' it can be, but you can be creative. use song lyrics, make it rhyme, whatever you like.
Thank you! Any questions, feel free to ask here,
message Demosthenes
, or ask in the
help board
.